Frequently bought together:
Description
Fireball Tool Bench Vise
What's special about this bench vise:
This vise has a specially designed 4 point swivel base designed to match up with holes on most common welding tables. Whether you have a table with 5/8" or 16 mm holes, if the spacing is on 2" centers this vise will fit. You can quickly bolt and unbolt the vise anywhere on the table as needed. When mounted in the correct orientation, the back jaw will hang over the edge of the table, allowing you to clamp tall objects in the vise.
You can use your own bolts to mount this vise to a work table or other workbench, or you can also purchase with our 5/8" diameter shoulder bolts for bolting to welding tables. Purchase the shorter bolts for 1/4" thick tables, or longer bolts for tables between 1/2" - 3/4".

Other Great Features:
This vise is made from forged steel rather than cast iron, which has a higher yield strength for a comparable size. The 90,000 PSI tensile strength of these forgings allow the vise to be lightweight but with a comparable strength to vises with twice the weight. Since it's welded together, if you ever take things a little too far with a cheater bar you can repair it relatively easily.
Details:
90,000 PSI tensile strength forged steel

Black Oxide finish on the jaws and other hardware

Replaceable flat jaws and pipe jaws

Adjustable, machined guide rail ensures smooth action

360 Degree Swiveling Base

4

Mounting Holes with 4" x 6" center for mounting on welding tables.  Holes are 0.650 inches in diameter.

Large machined anvil surface on the rear.

Hammer tone blue powder coat

Made in Taiwan
---
  Shoulder Bolts (Set of 4)
| | | | |
| --- | --- | --- | --- |
| SKU | T (in) | Overall Length | Compatible With |
| | | | |
| | | | |
| | | | |
| | | | |
---
Copper Jaws for Fireball Vise
These are sold as a pair, 4" and 5" models available, use them for holding delicate parts. As far as we know, we are the only company which sells both a vise and machined copper jaws made for those vises. Please note, these jaws are made from solid copper bar stock, which means they are extremely soft and will tarnish. We think they're a great addition to the vise, but it's a part which is meant to take wear.

These copper jaws are machined in the USA.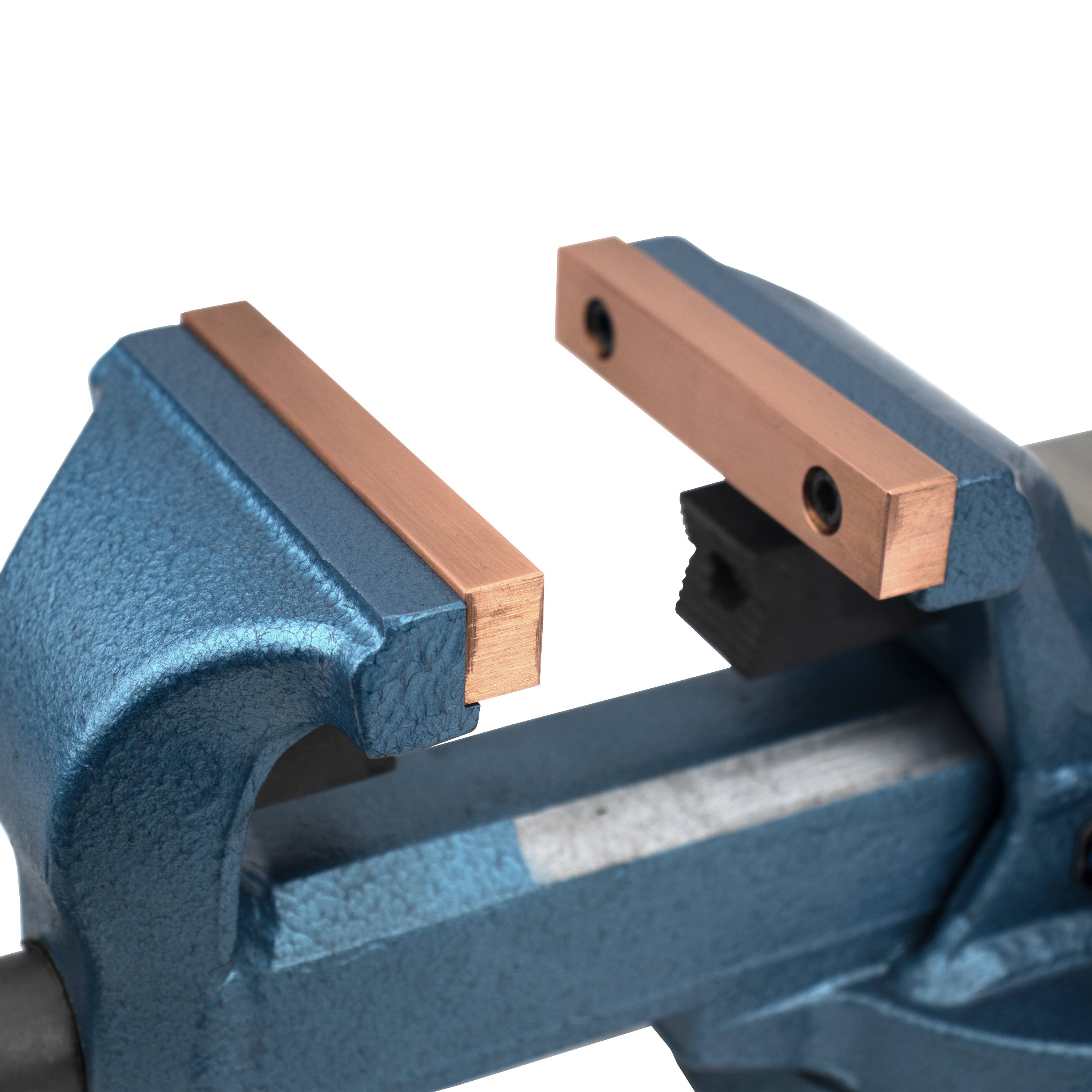 View All
Close
31 Reviews
Best value for the money, nice quality.

FIREBALL TOOL FORGED BENCH VISE

Beautiful forged vise, 5" model, bigger than I thought it would be, best price around, going to be a great addition to my workbench.

Very pleased with the Fireball 5" Vise! The jaws line up evenly and the paint is nicely coated with no chips.

The outer box arrived pretty beat, but was double boxed and while there was a hole worn through the bottom, all looks to be well! An extra layer of styrofoam or even some extra sheets of cardboard would likely be needed if it had any more rough handling along the way to the doorstep.

I wavered between the Fireball and the Capri, but liked the value of the 5" size vs going 4", which seemed a bit too small or almost 40% more weight with a 6".

I took DMT diamond bench hones (300, 600, 1200 grit) to the circumference of the swivel tracks of the base and along the two upper ground corners of the main bar of the dynamic jaw. Then, did the same to plane and polish the working face of the small inner triangular adjustment plate that is used to remove the slop in the dynamic jaw. I cleaned away the factory grease and applied WeaponShield Grease. This wasn't essential, as the vise opened and closed smoothly out of the box, but I'm a nutter and this allowed for a slightly tighter fit with the two adjustment screws for the dynamic jaw and made operating the vise and the swivelling buttery smooth! The adjustment screws are actually quite precise once in the proper range of slop that can be removed from the dynamic jaw, and going 1/16th of a turn from too tight to just right.

I am very pleased with the quality of the Fireball Forged Bench Vise after testing it daily for a week (with much more light-medium use planned) and would be curious what this extra polishing would cost, but that would likely bump it into the next price/size category and out of consideration for many people.

Finally, I always prefer to buy and support products made in Taiwan, rather than China. This vice is a definite step up from the last few sub $70-130 Chinese cast vises that I've been quite disappointed with over the last few years.

Thanks Fireball Tool!

Really nice quality for the price, in the world of bench vises where cheap price is always cheap quality, and expensive is usually high quality, this one fits the in between. Not the heaviest duty but waaaaaay better than anything else under $200

Simply an excellent vise. Very little backlash in the screw, everything moves smoothly, and it even has gibs for adjustment.

Short term review and initial impressions:
Upon first few weeks of use this is an absolutely fantastic vise!
It has a strong swivel base, tight tolerances and very minimal slop with great clamping power.
Jaws lined up perfectly out of the package and it came nice and greased.
The finish looks great too!
In my opinion to get anywhere near this in quality for the price, your looking at another $100-$200 bucks easily from another brand.
Maybe if your lucky you could find something used but if not, I would say if all you need is a strong, basic, 4 or 5" vise from a company that nerds out on bench vises, don't waste your time and just pick one of these up.
Shipping was really fast and the vise came double boxed.
The only thing I will say is that it should probably be packed in there tight with some expansion foam or hard foam because of the slop in the inner box it arrived basically busting out of the bottom.
But the vise was completely undamaged.
Great vise!

Jaw alignment seems good. Welds are not the cleanest or neatest but from the YouTube demonstration of a similar vise showed that they are strong. It's made in Taiwan. I wish it was made in USA. No warranty but the price was much less than similar Yost vise.

works great for the the cost thought it would be made in the USA but nope its not, if I would have known I would have passed. or paid way less.

Received on time, and as expected. Very nice vice; glad I bought the copper inserts!

I was looking around at home improvement stores for a bench vise but when I saw this vise on the Fireball YouTube channel I knew I wanted that one and it's been great. It opens and closes very smoothly and is exactly what I was looking for.

Can not say I've ever seen such a a Solid little vise. Love it love it!!!!!! The only two things I would have liked to seen different is a double V notch cut into jaws that hex bolt heads could be clamped into and a little more aggressive teeth on the pipe vise jaws. Other than that
This is a Precision made, Reasonably priced, shop vise that will not break do to it all steel construction. You might bend it, but you're not going to break it. I can not count the number of cast vises I have broke in the past. Thanks Fireball Tool

Excellent small vise.
View All
Close