Piston Action Medium Duty Clamp 2700 lbs, 5" Throat, with T-Handle
SKU:

UPC:

.:
Frequently bought together:
Description
SureForce Bar Clamps
The unique feature of these clamps is an enclosed, piston action head which has a couple advantages I think you'll find useful in many situations:
1) Piston pad end I moves in a straight line of action, so it does not try to twist/rotate the work-piece or clamp when you're tightening it, which gets annoying real quick. This is due to the force of the screw handle being transmitted to the pad through ball bearings.
2) The threads are fully enclosed, so it's protected from weld spatter and debris.
3) Lubricated spindle and finer threads combined with straight clamping action means 40-60% less force compared to traditional screw action clamps.
4) While the piston stroke is not very long, the arm contains a brake which matches serrations on the bar of the clamp. This brake ensures the arm doesn't slide down when you're using it in the inverted "F" position, and a tighter fit between the bar and the arm, which means that the travel of the piston isn't wasted taking up slack.
Other Details:
Fixed and sliding arm of the clamp are made of ductile (nodular) cast iron
Bar is plated, cold drawn steel
Heavy Duty version of this clamp come with beefy folding handle.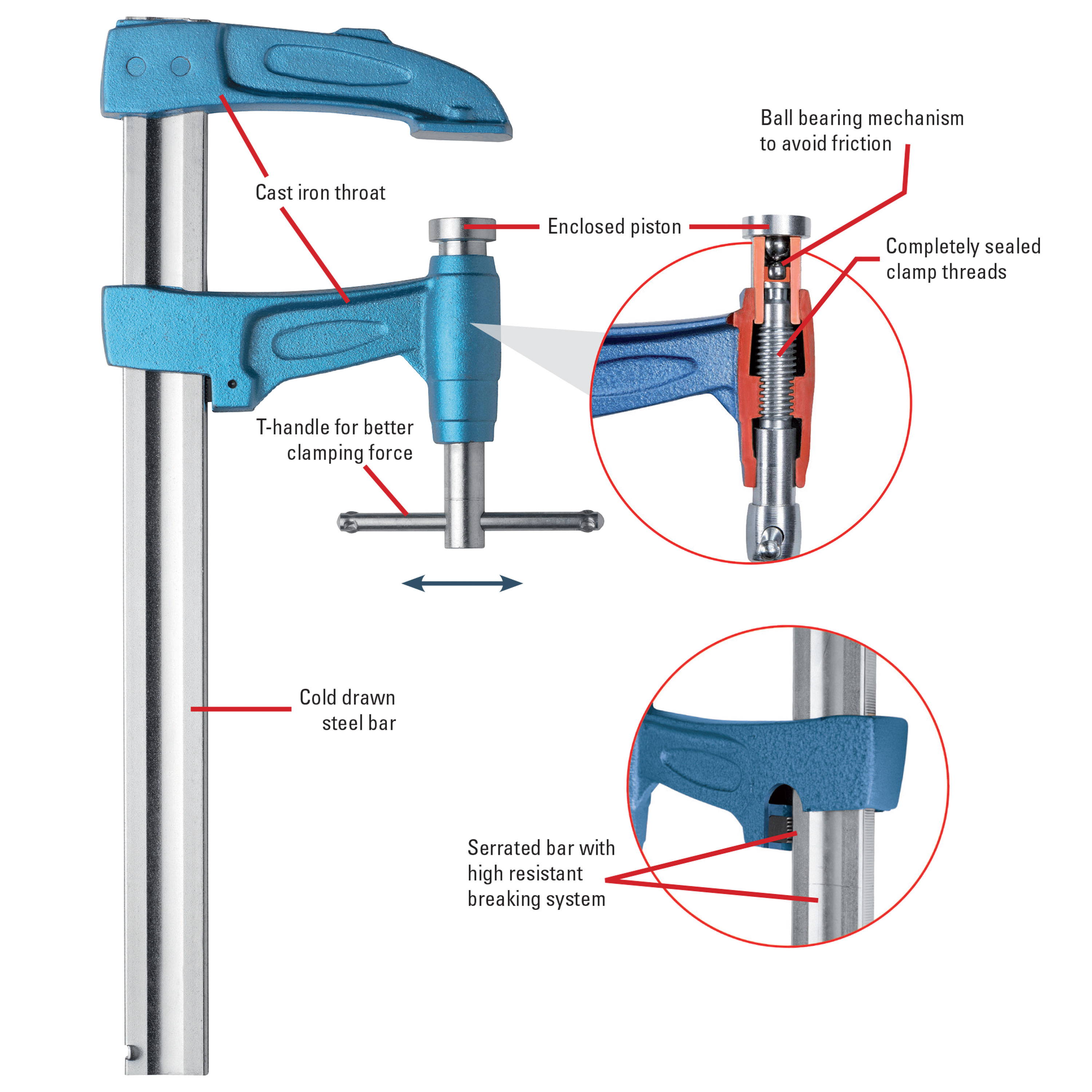 ---
| | | | | | |
| --- | --- | --- | --- | --- | --- |
| Model | Clamping Force | Throat Capacity | Capacity | Description | Price |
| | | | | SF Clamp 1800 lb, 4" T, 1.2 x 8" | |
| | | | | SF Clamp 1800 lb, 4" T, 1.2 x 12" | |
| | | | | SF Clamp 1800 lb, 4" T, 1.2 x 16" | |
| | | | | SF Clamp 2700 lb Cap 5" Throat, 1.4 x 12" Bar | |
| | | | | SureForce Clamp 2700 lb Cap 5" Throat, 1.4 x 18" Bar | |
| | | | | SureForce Clamp 2700 lb Cap 5" Throat, 1.4 X 24" Bar | |
| | | | | SureForce Clamp 2700 lb Cap 5" Throat, 1.4 X 36" Bar | |
| | | | | SureForce Clamp 4800 lb Cap 6" Throat, 1.6 x 18" Folding Handle Bar | |
| | | | | SureForce Clamp 4800 lb Cap 6" Throat, 1.6 x 24" Folding Handle Bar | |
| | | | | SureForce Clamp 4800 lb Cap 6" Throat, 1.6 x 36" Folding Handle Bar | |
| | | | | SureForce Clamp 4800 lb Cap 6" Throat, 1.6 x 48" Folding Handle Bar | |
---
View All
Close
3 Reviews
You will appreciate these clamps!

I was thrilled to receive these clamps from Fireball Tools! They are very good quality. There were a few times, on a recent project, where it would have been convenient to have another set of hands to get them set. But, they work very well. Being designed so the end doesn't rotate, while being tightened, is a real plus.

very well made and is a great quality...

very well made and is a great quality tool

Medium Duty Clamp 2700 lbs with T-Handle

Medium Duty Clamp 2700 lbs with T-Handle
View All
Close