1: Do you ship Internationally/Canada/Alaska/Hawaii?
2: What are the dimensions of the squares?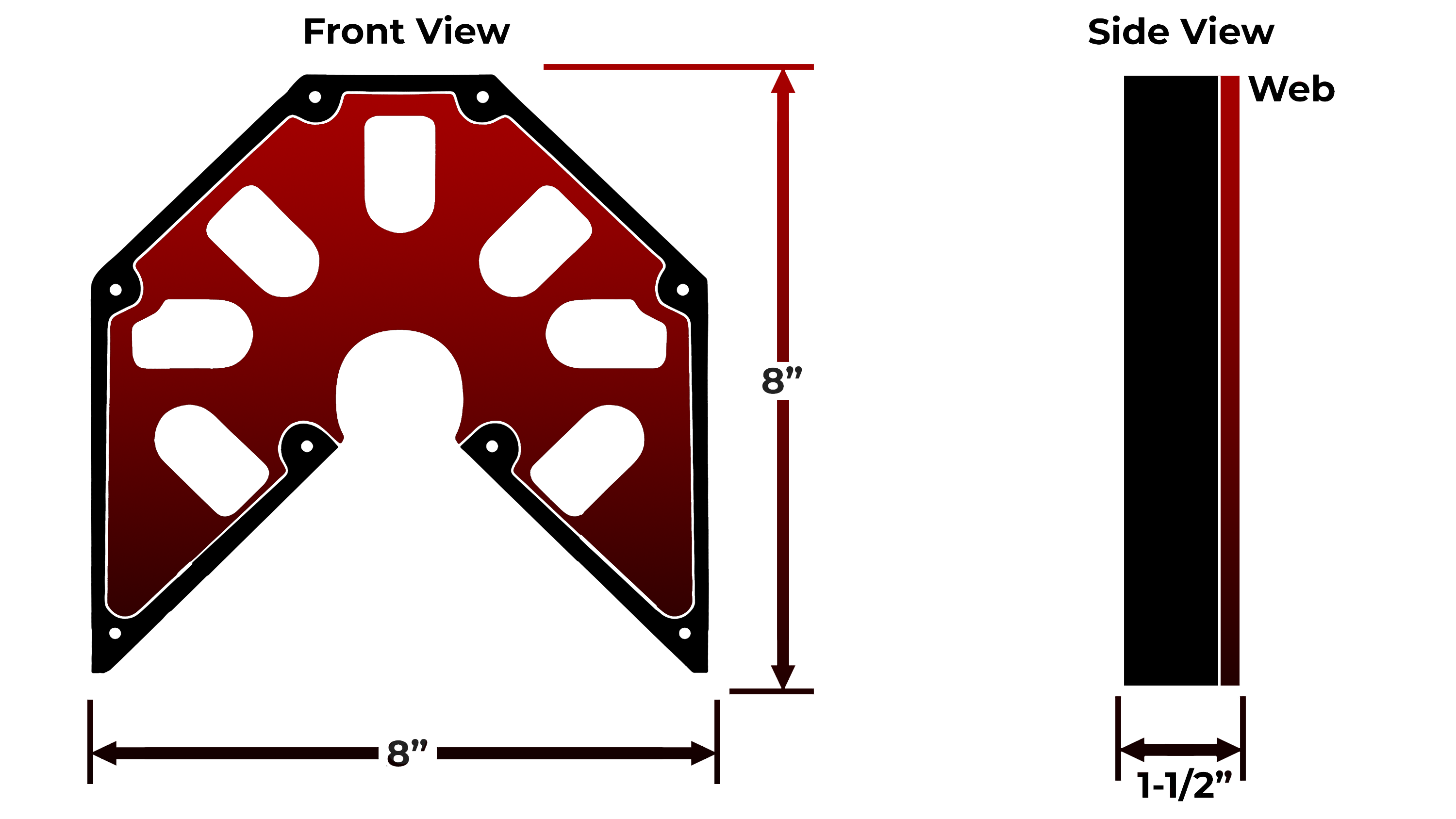 3: What size square should I get? 8" or 12"?
Size of square should be determined on the size of material being used. Applications with material less than 2" works best with the 8" square. Applications with material larger than 2" works best with the 12" square.
4: What to pick, Aluminum or Cast Iron?
Cast Iron is heavy duty and is best for high production, high-use applications. Aluminum is lighter and is best for wood working, off the table welding situations (like on sawhorses), and applications where rust may be an issue.   Please see our video about this topic on our youtube channel. Cast Iron or Aluminum?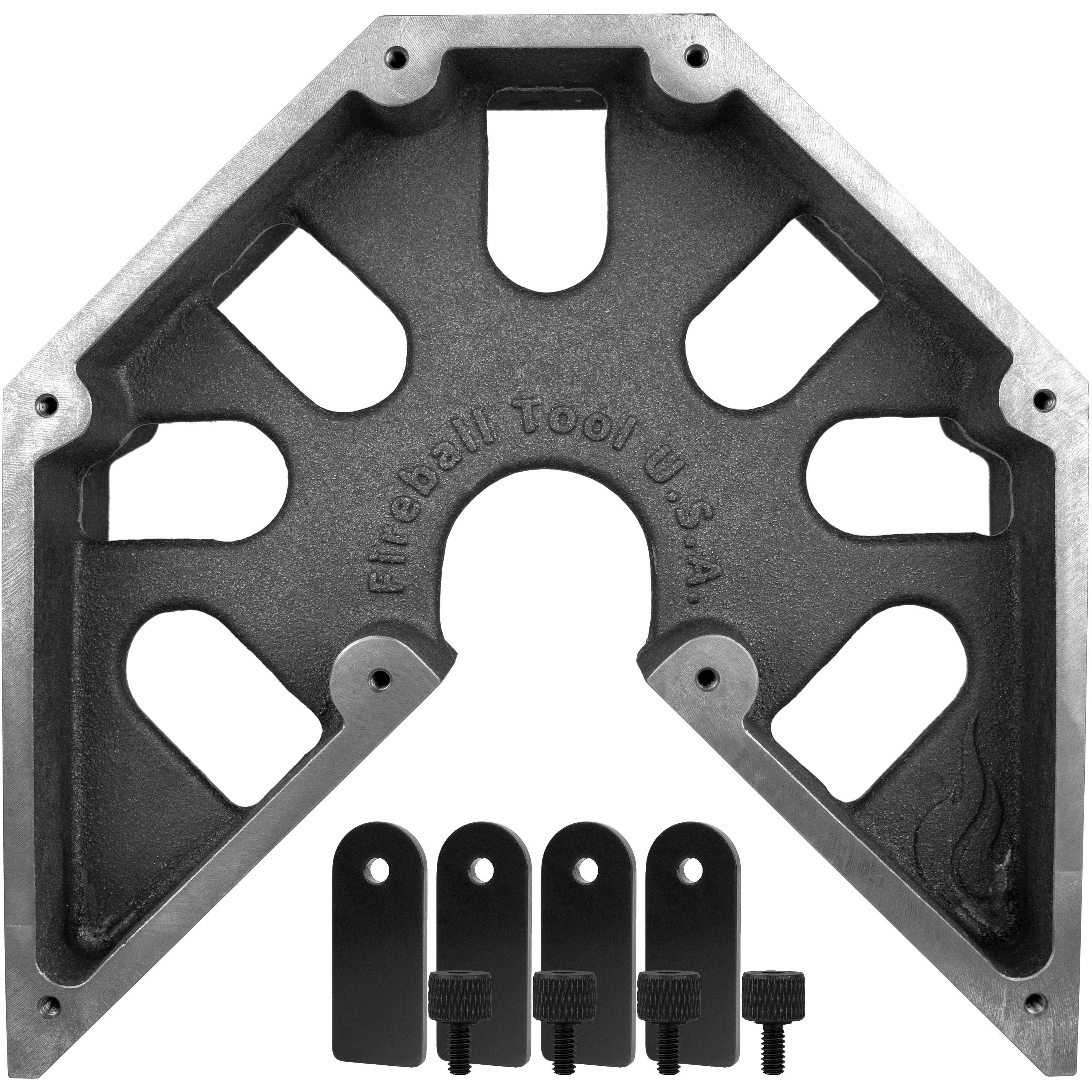 Pros
Great for heavy duty projects

Excellent resistance to deformation and raising burrs when scratched.

Some natural resistance to weld spatter.
Cons
Heavy (Not ideal for mobile welding)

Susceptible to rust.
Pros
Lightweight (Ideal for welding on the go)

Resistance to deformation vs aluminum billet

Some natural resistance to weld spatter.
Cons
Can be be damaged if dropped or if used in heavy duty projects.
5: Why should I add black oxide?
What is Black Oxide?
Black Oxide, blackening, oxidizing, oxiding, black passivating, gun bluing . . . these terms all refer to the process of forming a black iron oxide on the surface of ferrous metals.
The black oxide process is a chemical conversion coating. This means that the black oxide is not deposited on the surface of the substrate like nickel or zinc electroplating. Instead, the black oxide coating is produced by a chemical reaction between the iron on the surface of the ferrous metal and the oxidizing salts present in the black oxide solution. These oxidizing salts include penetrates, catalysts, activators and proprietary additives which all take part in the chemical reaction. The result of this chemical reaction is the formation of black iron oxide, magnetite (Fe3O4), on the surface of the metal being coated. Black oxide has a range of unique properties and benefits including corrosion protection & reduced friction.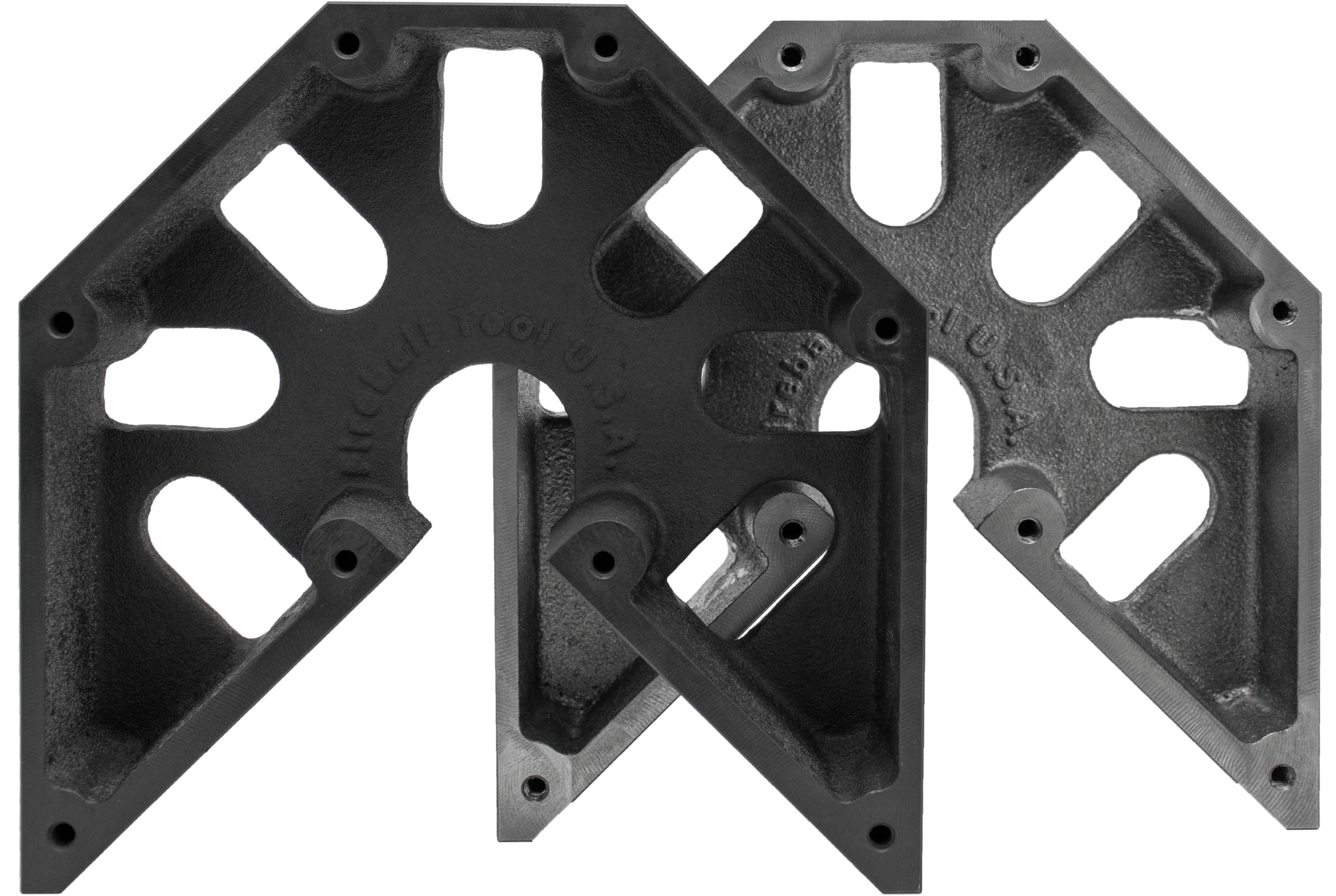 6: Do you have a video of tips and tricks for using the squares?
7: Do the squares come with tabs?
Yes, all squares come with tabs. Mega 12 and Mega 8 squares come with 4 tabs each, Monster 12 and Monster 8 squares come with 3 tabs each.
Our revolutionary tabs allow you to align your material up so that you don't even need a welding table! Don't spend thousands on a flat table, just use our squares! Tighten the tabs onto the front or back of your square and you can immediately get to work. Sure, there are different jigs out there, but can they line your material perfectly in seconds?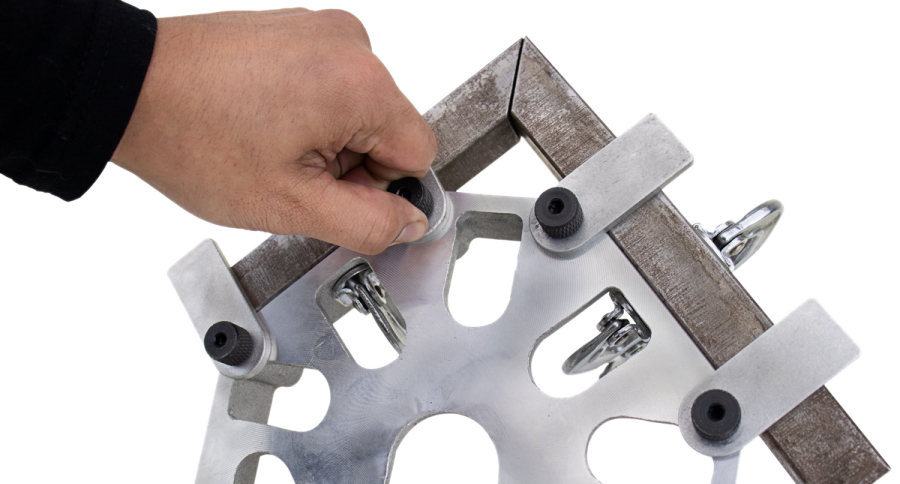 But it doesn't stop there. We reinvented the game by introducing our thumbscrews. Say goodbye to your hex keys and Allen screwdrivers and freely adjust the tabs with only your fingers!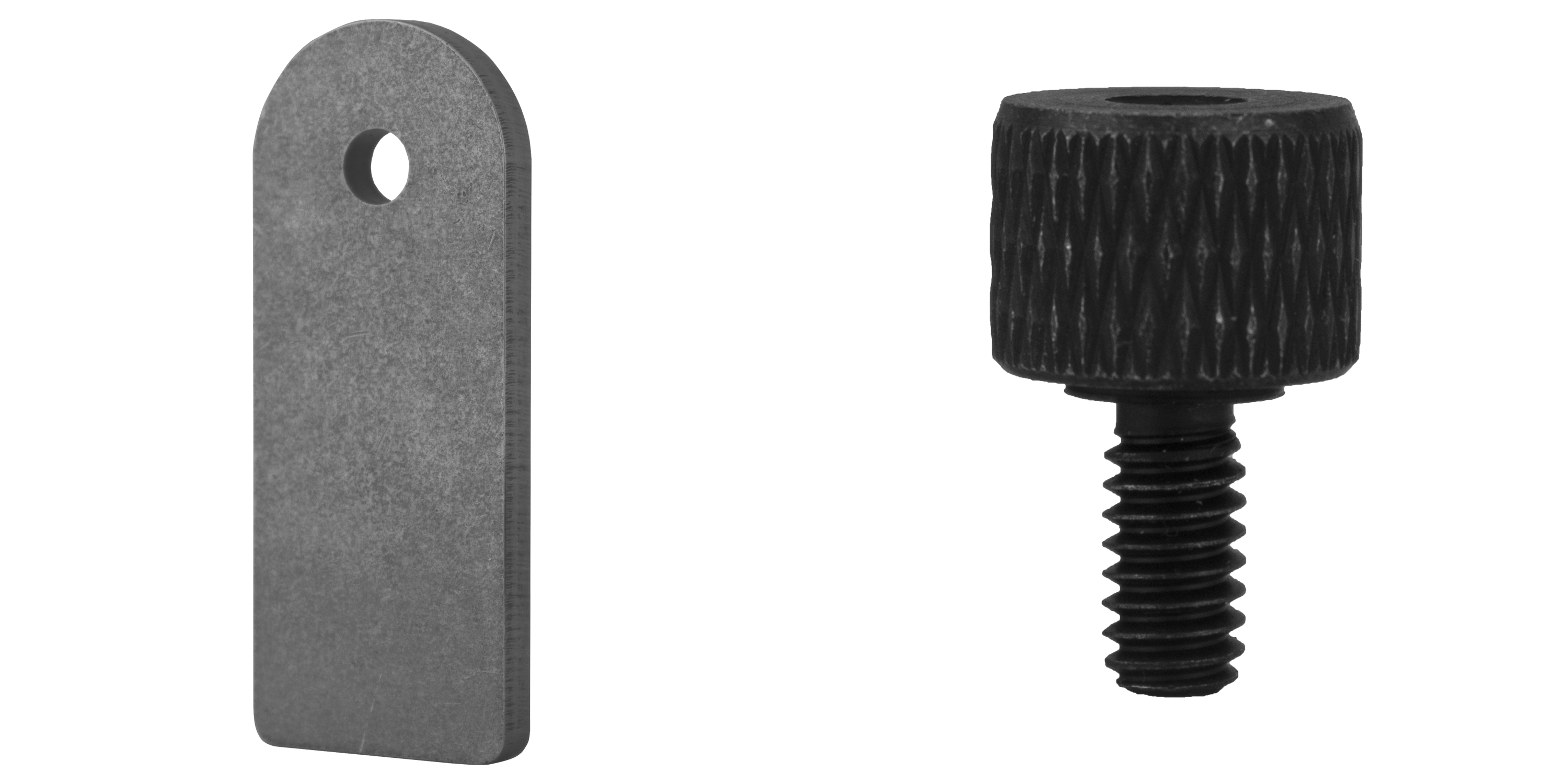 Install our edge alignment pins on any square to create a large, overhanging edge which can be used to index the square on a different plane. Depending on the square, this allows you to create edges which are 90 degrees (perpendicular), 45 degrees, parallel, and even 60 and 30 degrees from the edge.
Use it with our Monster squares to create a speed square for layout.
Use it to hang the square off the edge of a table for working vertical or perpendicular to table surface
Use it to elevate the squares off the ground or table for extra clearance when you're fitting and welding entire frames
Tip! If trying to create a parallel edge with the mega square for marking, use our shims to get that perfect distance!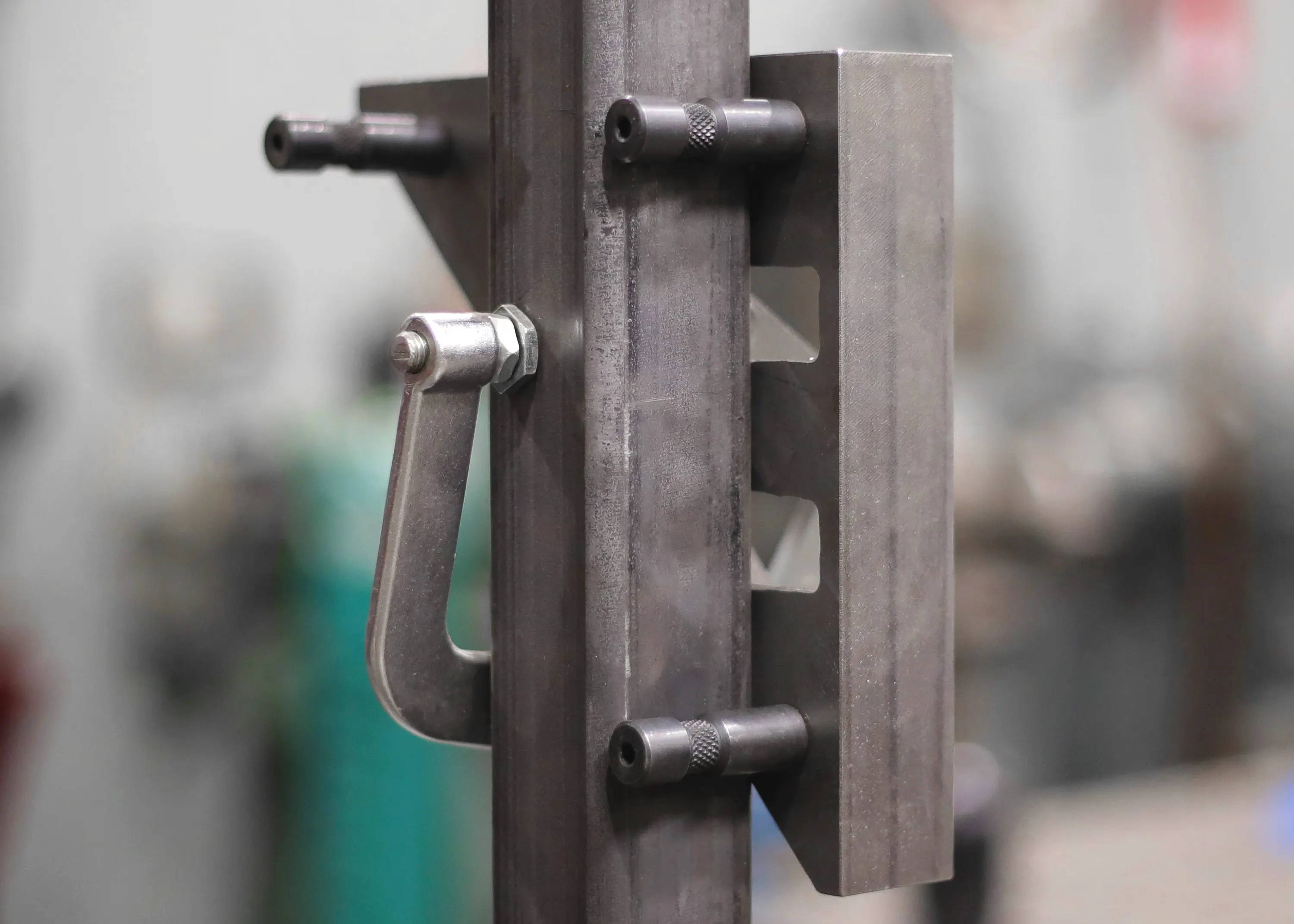 8: How do you keep the squares from rusting?
Keep squares away from moisture as much as possible. Use any good quality rust inhibitor to keep rust from forming.
9: Is Cast Iron magnetic?
Yes, Cast Iron is magnetic. Cast Aluminum is not.