Frequently bought together:
Description
Fireball Tool Bench Vise
What's special about this bench vise:
This vise has a specially designed 4 point swivel base designed to match up with holes on most common welding tables. Whether you have a table with 5/8" or 16 mm holes, if the spacing is on 2" centers this vise will fit. You can quickly bolt and unbolt the vise anywhere on the table as needed. When mounted in the correct orientation, the back jaw will hang over the edge of the table, allowing you to clamp tall objects in the vise.
You can use your own bolts to mount this vise to a work table or other workbench, or you can also purchase with our 5/8" diameter shoulder bolts for bolting to welding tables. Purchase the shorter bolts for 1/4" thick tables, or longer bolts for tables between 1/2" - 3/4".

Other Great Features:
This vise is made from forged steel rather than cast iron, which has a higher yield strength for a comparable size. The 90,000 PSI tensile strength of these forgings allow the vise to be lightweight but with a comparable strength to vises with twice the weight. Since it's welded together, if you ever take things a little too far with a cheater bar you can repair it relatively easily.
Details:
90,000 PSI tensile strength forged steel

Black Oxide finish on the jaws and other hardware

Replaceable flat jaws and pipe jaws

Adjustable, machined guide rail ensures smooth action

360 Degree Swiveling Base

4

Mounting Holes with 4" x 6" center for mounting on welding tables.  Holes are 0.650 inches in diameter.

Large machined anvil surface on the rear.

Hammer tone blue powder coat

Made in Taiwan
---
  Shoulder Bolts (Set of 4)
| | | | |
| --- | --- | --- | --- |
| SKU | T (in) | Overall Length | Compatible With |
| | | | |
| | | | |
| | | | |
| | | | |
---
Copper Jaws for Fireball Vise
These are sold as a pair, 4" and 5" models available, use them for holding delicate parts. As far as we know, we are the only company which sells both a vise and machined copper jaws made for those vises. Please note, these jaws are made from solid copper bar stock, which means they are extremely soft and will tarnish. We think they're a great addition to the vise, but it's a part which is meant to take wear.

These copper jaws are machined in the USA.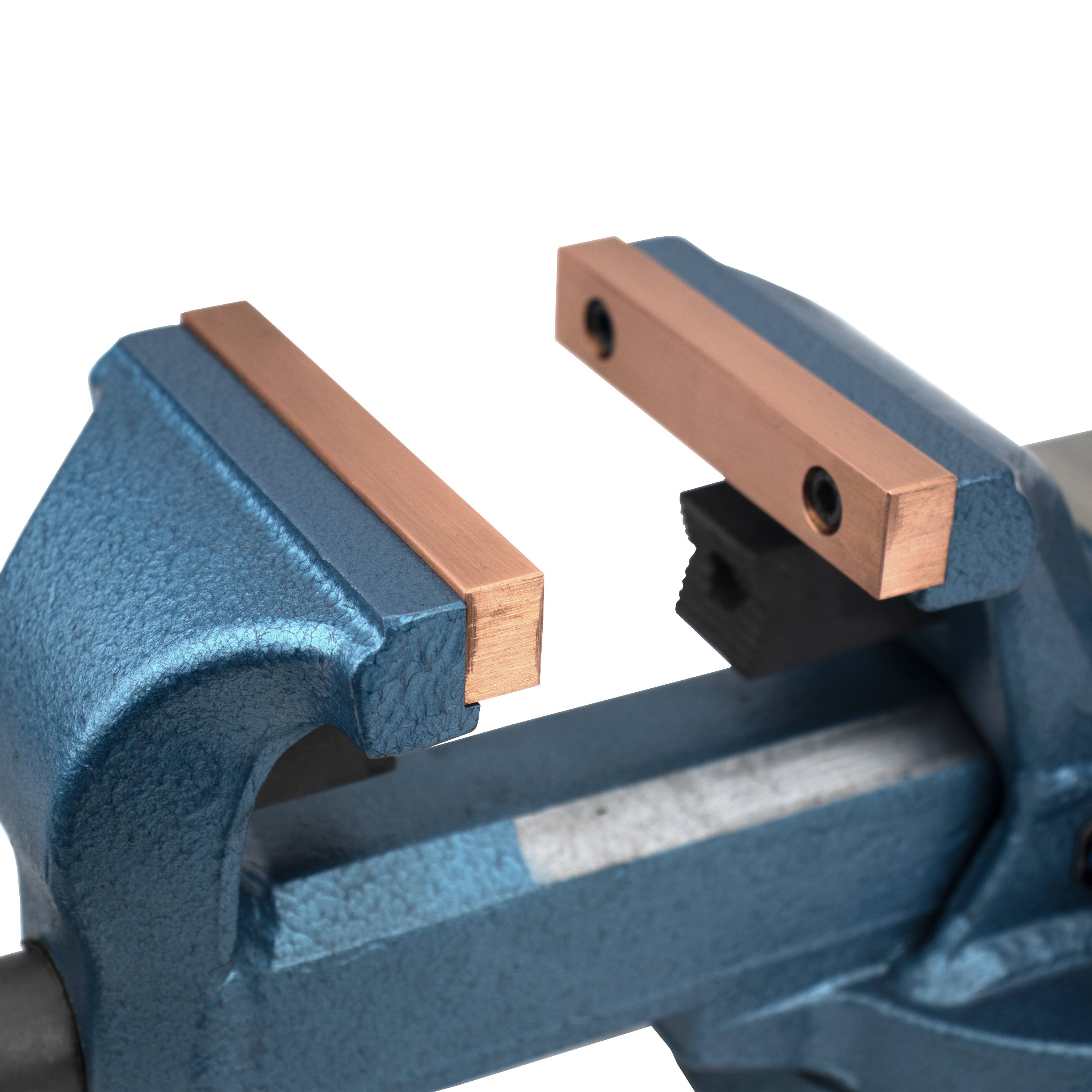 View All
Close
36 Reviews
Very smooth operation and sturdy vise. Fairly tight tolerances and reasonable finish. Does not come with soft jaws.

I have no yet mounted my new bench vise to my welding table yet but will be soon. The vise seems to be awesome, the jaw opening is huge. It is very high quality and I will get many decades of use out of it.

This is a great vice f. I'm very satisfied with everything about it.

All in all, I really like this vise. It's relatively well made, and the thinner steel structure provides good access to the workpiece. Fit and finish are good but not perfect. The stock jaws are very aggressive, so I made a set of smooth faced plastic jaws for it.

Very solid vise, first welded one I have ever had.

I gifted this fine product to my son, he loves it.

When I received this vise it exceeded my expectations. Build quality is fantastic for this price. The action is very smooth, and the power is enormous. The jaws are square and parallel, with excellent holding power. The vise shipped to Atlanta in only 3 days. It came bagged and double-boxed; the inner box had a good bit of damage, but the outer box was perfect upon arrival. The vise arrived already lubricated, and thankfully wasn't covered in an annoying coating (e.g. cosmoline). I had 4" cast iron vise that I was using as a press with a breaker bar to install connecting rod bolts. It was very difficult, and I snapped the main screw after only 4 rods. I ordered this vise as a replacement. The butter-smooth action made things easy - I almost didn't have to use the breaker bar, but I did, and this vise didn't even flinch. Applying 80 ft-lbs to the handle, I was also able to go back and reapply pressure to the completed rods to make sure I was fully seated. I was then able to loosen the jaws by hand! There is a 4" and 6" version of this vise out there with a "Capri" branding. Fireball lists the 4" for a better price. The 6" is a compelling option as it has an 8" opening capacity, but it's $100 more than this Fireball 5" version. I think the Fireball is in the "sweet spot" for price vs performance. I am very satisfied!!

Fantastic Vise, listing is a little misleading

First, the vise is amazing. Ive been using a beatup, cheap vise for years, and the Fireball vise is a huge upgrade. Very happy with the purchase, pause one minor issue. When I purchased the vise in May 2021, the listing had copper jaws in the listing with no option to purchase the copper jaws separately, so it appeared to me that they would be included. That is not the case. The copper jaws have been discontinued and they were not part of the purchase. As of May 17, 2021, the listing still has the copper jaws in the images for the listing. The vise is still a great value for the cost without the copper jaws, but I was dissapointed that I have to figure something out now for when I dont want to damage a work piece. Overall, happy customer.

Am really pleased with this vice! It sure is purdy and works great. The quality of the vise is outstanding. Bought it to use on my Arcflat weld table. It bolts right up as advertised. Wish I had purchased the shoulder bolts to go with it - was hesitant because the table is 3/8 inch thick and saw no bolts listed for a table of this thickness. need to call Fireball and see if they have something that will work.

Great vise!
View All
Close