10" File Set (5 Machinist files in pouch) 16080 / 16081
SKU:

UPC:

MPN:
Frequently bought together:
Description
Pferd is a German company that might be better known for abrasives and carbide burrs, but they've been making files for over 200 years in Germany and it's actually their original product.
Compared to other files on the market, these stay sharper longer, and have comfier handles. Most file sets go with 8" length as standard but we feel 10" is a better length for most metalworkers because it gives you a longer stroke and a little more space to grab onto the end when using both hands.
American Pattern Machinist Files typically come in three styles of cuts, Bastard Cut (roughest), Second Cut (less rough), and Smooth Cut.
On a 10 inch hand file/flat file typical teeth/inch are as follows: Bastard Cut= 23, Second Cut= 30, Smooth Cut= 40.
File Set 541 WRU: 10" bastard cut (EDP 16080)
File Set 542 WRU: 10" second cut (EDP16081)
This set comes in a rugged, weather-resistant PVC roll-up pouch for optimum protection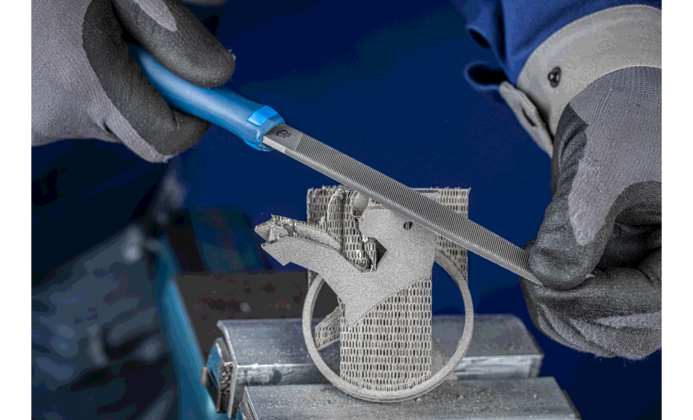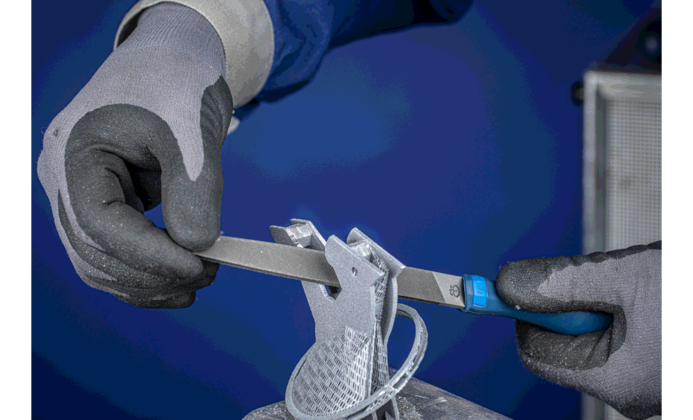 ---
Rectangular file, cut on three sides, one side uncut. Version with tang. Shape A according to DIN 7261. Suitable for filing rectangular geometries.
Deburring
Cutting out holes
Surface work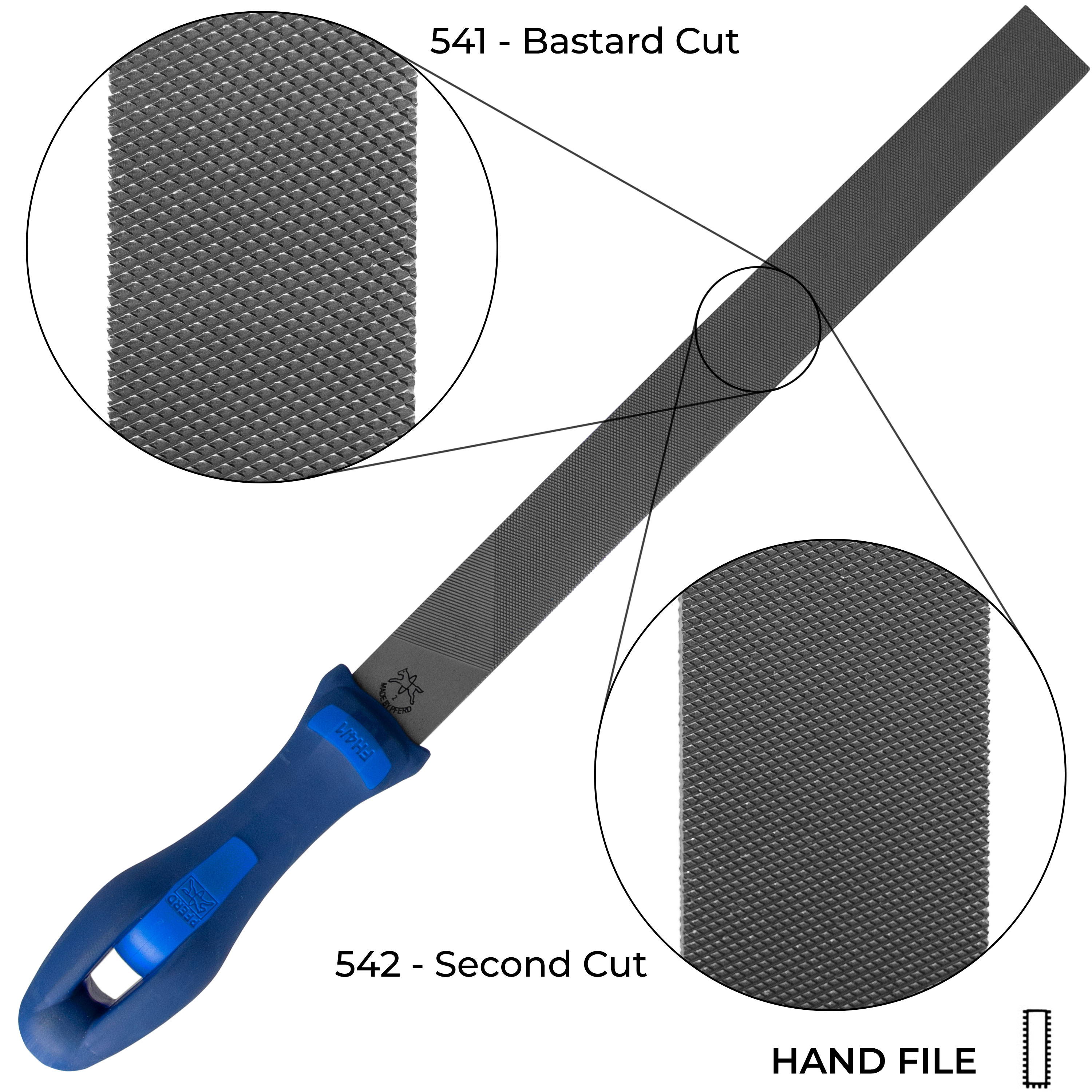 ---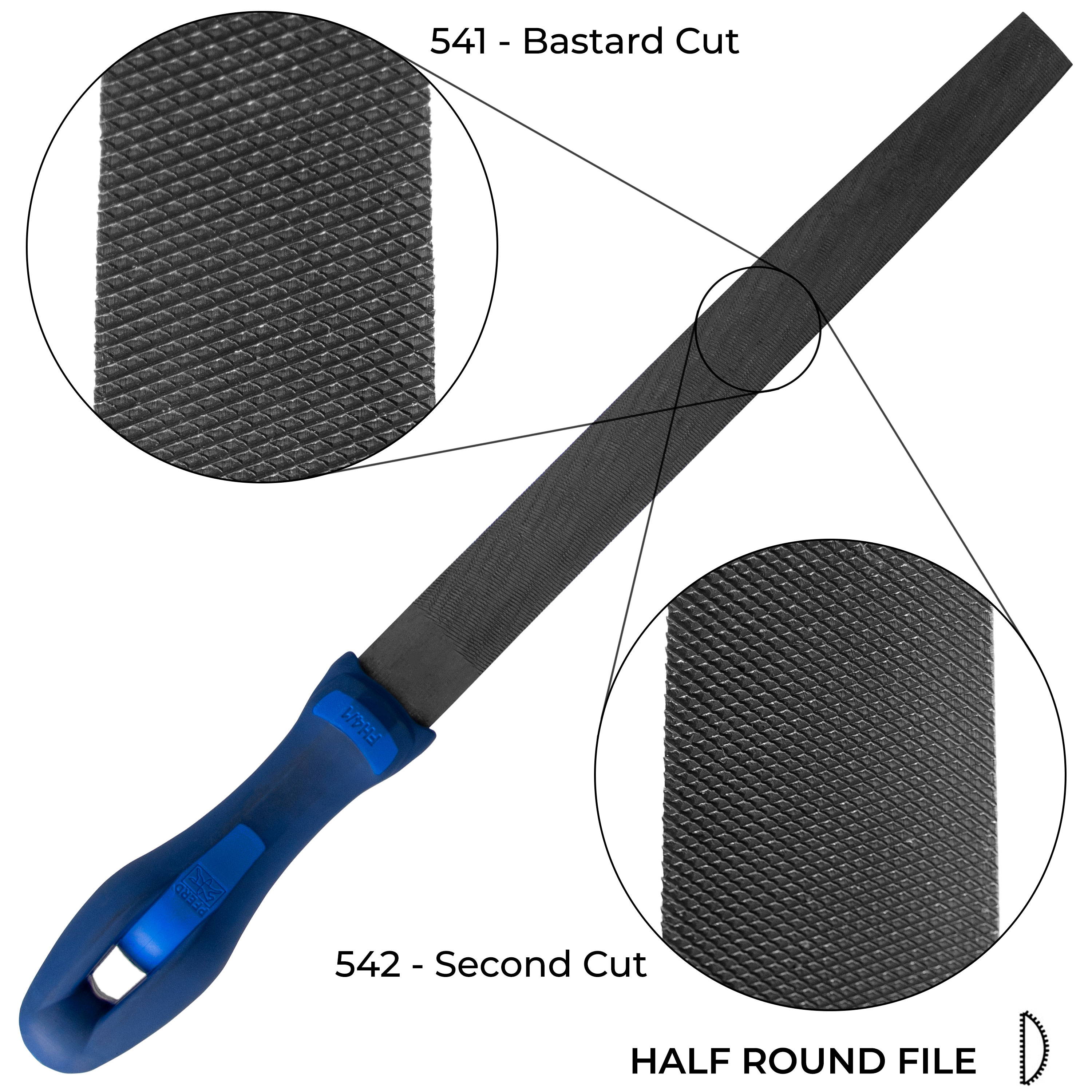 Half Round (Tapered) Files
These files are used for filing out concave surfaces and crevices, and for rounding out holes. The flat side of the file is double cut for use on flat surfaces. The half round side is spiral cut which removes metal rapidly and leaves a smooth finish.
Surface work
Stock removal in radius areas
Deburring
Filing of through-holes
Filing of curved shapes
---
This popular machinist file is designed for enlarging circular holes or rounded grooves that are too small for a half round file. It tapers toward the point making it adaptable for use on various size holes.
Stock removal in radius areas
Deburring
Filing of through-holes
Filing of interior radius shapes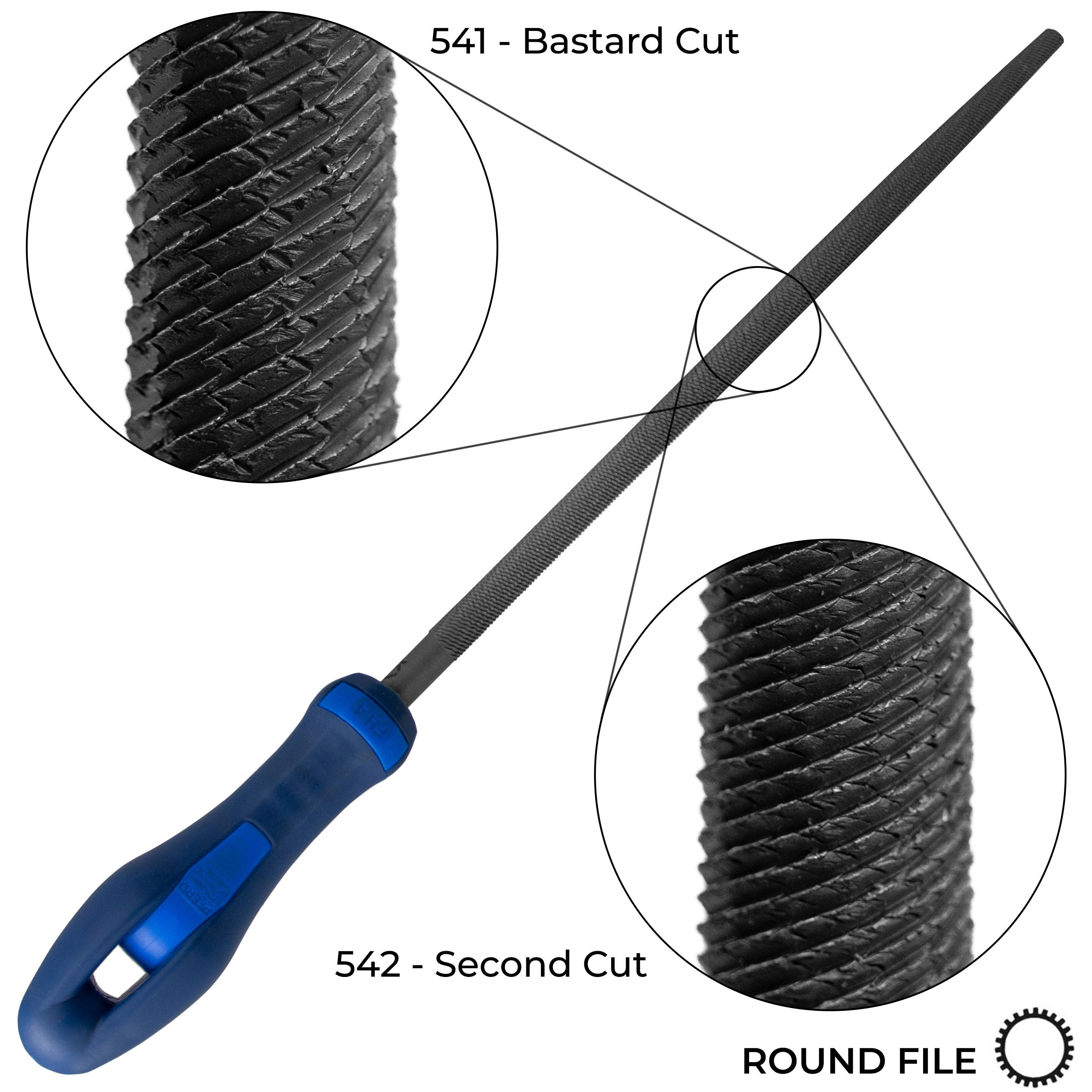 ---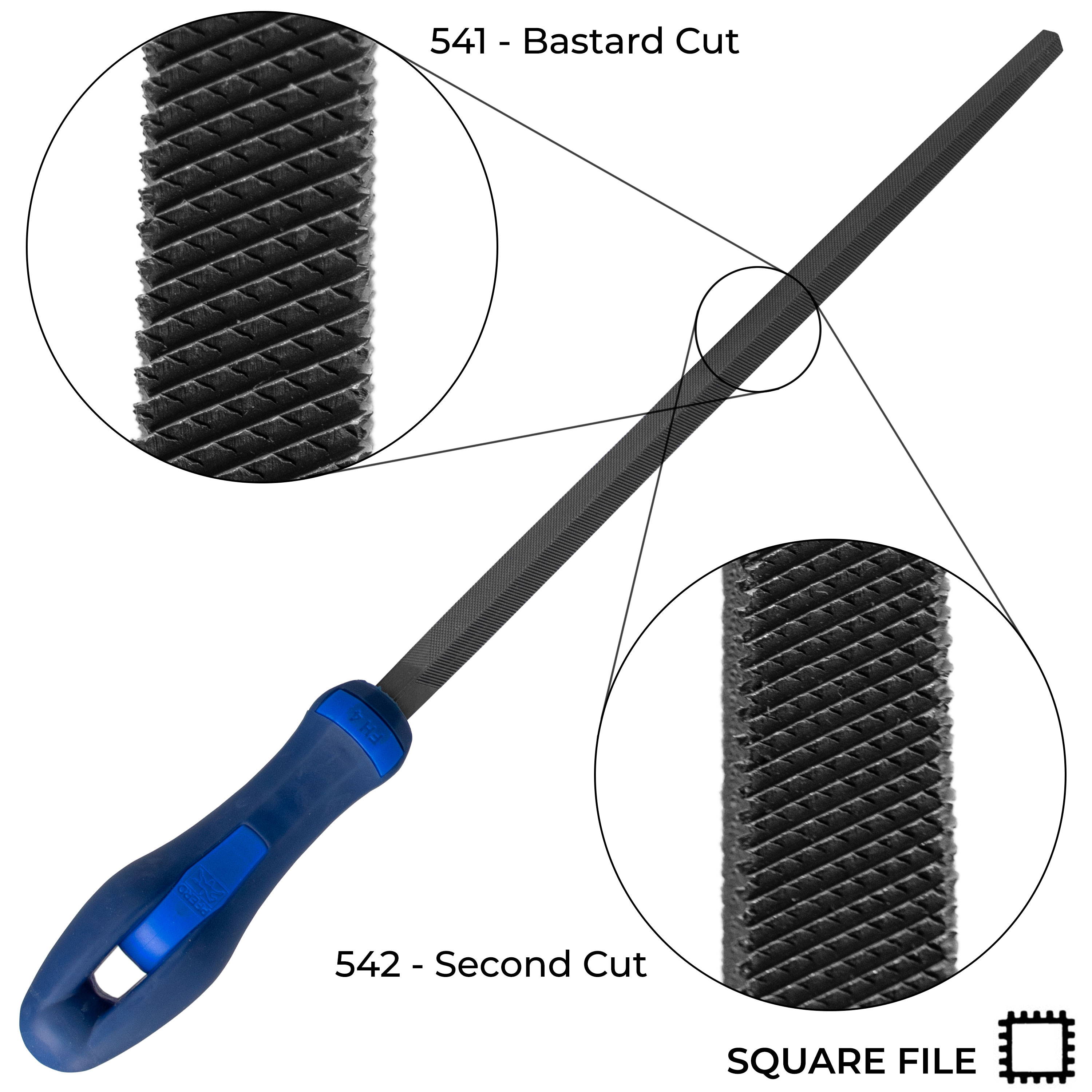 Handy for use on slots, keyways, rectangular or square holes and for surface work, this file has four equal sides. Double cut, it tapers toward the point.
Filing of shapes
Filing of through-holes
---
Three square files are triangular in cross-section, double cut and have fairly sharp corners that are slightly set and cut. These files are for general use by machinists for filing internal acute angles, for cleaning out square corners and filing taps and cutters.
Surface work
Deburring
Stock removal on rectangular shapes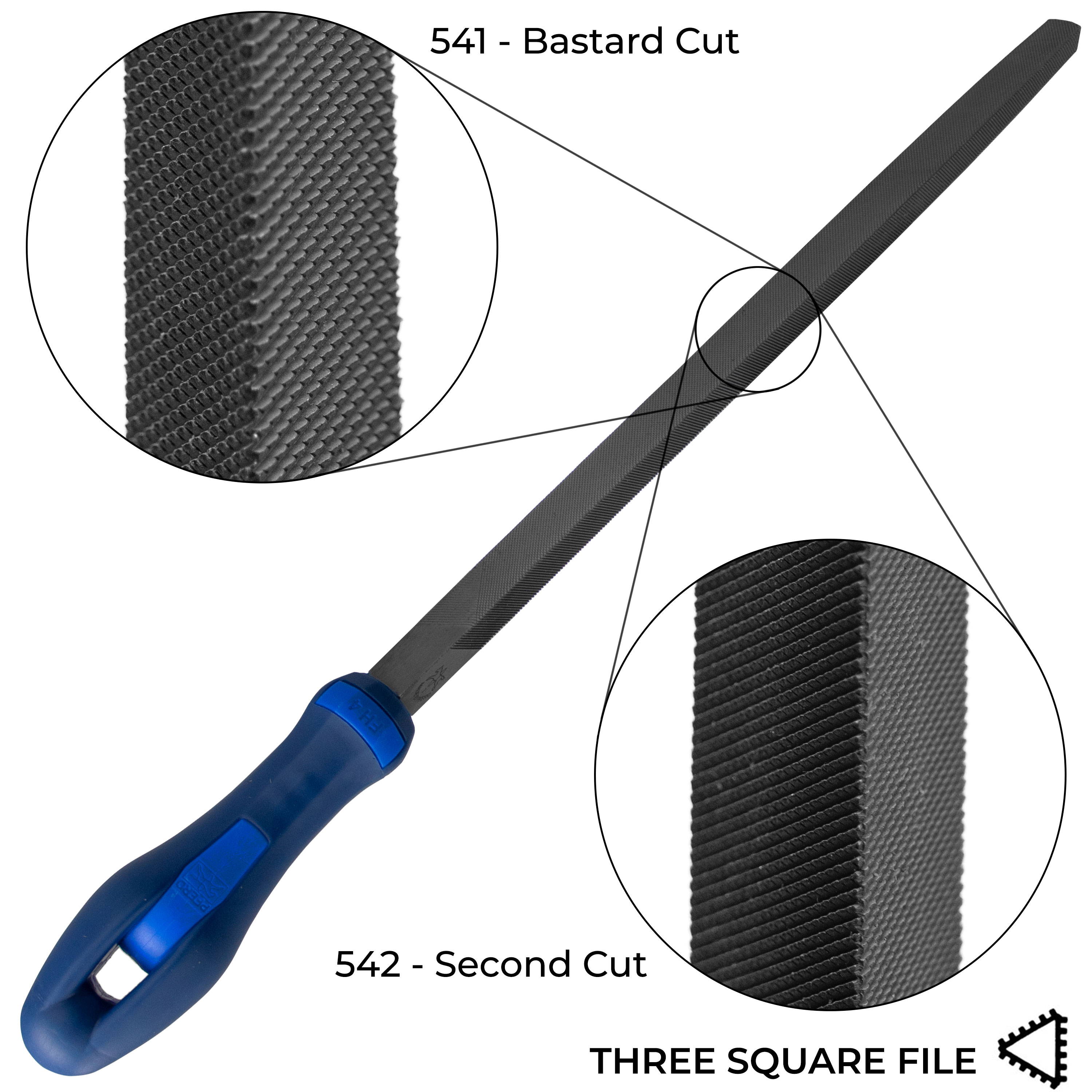 View All
Close
4 Reviews
The Pferd second cut files have comfortable handles plus they cut material pretty quickly but not to rough good files

Best files I've ever touched. Very convenient handles, sturdy surface and that, you know, eternal greyness of high-carbon steel makes my satisfaction skyrocketing

10" FILE SETs - 16080 / 16081

Really Really Really NICE FILES! Super sharp.

Files were perfect and as described and the best priced! Check out their YouTube channel! This guy makes some insane tools
View All
Close